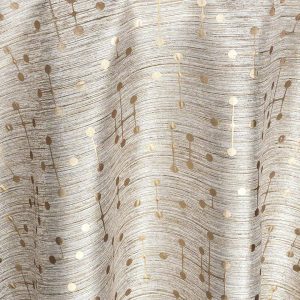 Bronze Jacks
Retro is given a chic, modern twist with the pattern in Bronze Jacks linen. Subtle shimmering lines bring interest and texture to the unique bronze pattern laid over a metallic silver. The Alloy Collection linen has metallic designs woven into a soft, shimmering fabric with a lovely drape – a stunning foundation for any special event table.
Add to Rental Quote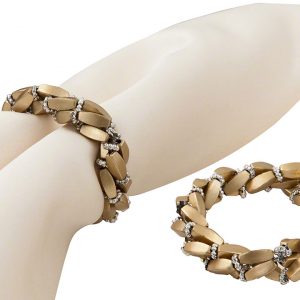 Jessica Napkin Ring
Matte golden beads intertwined with mini silver ring beads, our Jessica Napkin Rings will add that simply stated elegance to your tabletop design. Instead of the conventional napkin folds from your chosen venue, try something more memorable with this fun napkin accessory at your next gala.
Add to Rental Quote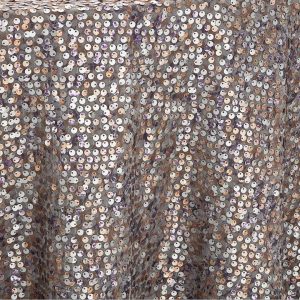 Mercury Sequin
Photographed over Platinum Lamour   The scientific element of metallic silver… The planet that revolves around the sun… The Roman god of yore… Our Mercury Sequin is in remarkable company with all of its namesakes. Looking closely you will see Chestnut, Eggplant and Gunmetal surrounding the soft gray within this pattern. Not as shiny as most sequins you will find, our matte faced sequins reflect just enough light to create a presence like you haven't seen before. Sewn to a sheer gray fabric, you will have to decide whether you will need to have an under cloth, since you may just love the effect you will created without one. If you are looking for a wonderful pairing of Silver and Gold, do not forget to check out our Venus Sequin, which it too is simply divine!
Add to Rental Quote