Fabulous Events has the Napkin Rentals you need for your special event. Whether tied in a knot or folded into a menu holder, napkins are more than just a functional item. Our napkins will add that pop of color or subtle addition to your table design. We even offer napkin rings if you want to go that route. Contact one of our Event Designers today to aide you in that perfect detail that pulls the entire table décor together. With our unparalleled selection, choosing your napkins will be fun! Let your creativity flow; take risks, be bold, or reinforce your elegant vision. Best of all, depending on the selection you make, your napkins can blend in or pop on the table!
Check out our extensive collection below to find the perfect napkin to compliment your table.
Call us TODAY at 877-200-2424 to speak to one of our Experienced Event Designers.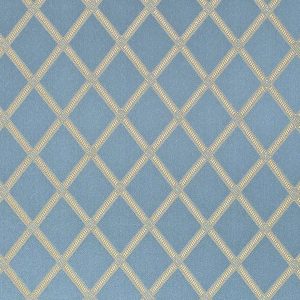 Wedgewood Marquis Damask
Inspired by the infamously historical firm, our Wedgwood is a soft grayish blue that has a striped pattern in a easy taupe that creates this perfect latticework design. Add a crisp white napkin, and your design work will be complete. Do not forget that this hue will combine with many traditional colors from England and beyond.
Add to Rental Quote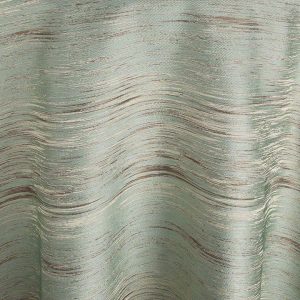 Nile Moda
Nile Moda is neutral, but with a modern edge. Nile has a hint of mystery, underscored by its nubby texture and undulating pattern. It's rich and can handle the addition of exotic spice tones as easily as it will stand on it own with simple white and gold accents. Let it shine by pairing it with a single, unexpected color. Or layer it with additional texture, color and pattern to create a unique and playful expression of your ingenuity and good taste.
Add to Rental Quote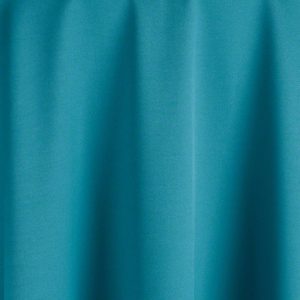 Caspian Twill
Ease of our Classics, with a punch of elegance, our Twills are a unique find.   These selections are somewhere between our Classic and Damask varieties……you will get the best of both worlds.   Our Caspian hue is a mix of blue and green, but falls closer to that green shades.   Some may see our Teal color, but is does have a little more blue added to finish it off.   You will love the jewel tone flair, as you create your next table top design.   Don't forget to see how marvelous this combines with our Miramar and Graceful Sheer lines, since they will be the perfect blend at your next fête. 
Add to Rental Quote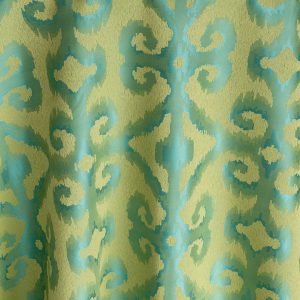 Lagoon Bravado
When looking at the definition of this distinctive word, you would find it described as "a bold manner" or "a show of boldness intended to impress."    That is exactly what you will do with this remarkable jacquard pattern……Impress!   Not too feminine and not too masculine, this has the perfect design esthetic, which will astonish at any celebration.  Our Lagoon adaptation has an Apple Green interwoven with a Lagoon blue-green that creates an interpretation that is a dance of several silvery hues.   Do not miss the opportunity to unite both sides together at the same fête, or use it alone with the coordinating Duet.   Be bold, be unique, be impressive!
Add to Rental Quote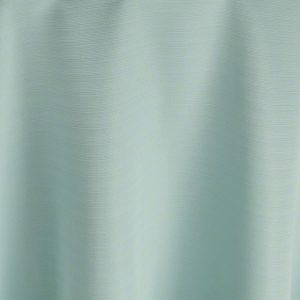 Sea Glass Faille
The softness of this Sea Glass Faille's pale blue-green hue has delicate luxury, enhanced when paired with the warmth of candles or other design elements.
Add to Rental Quote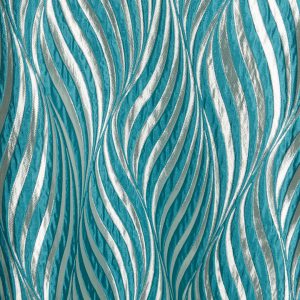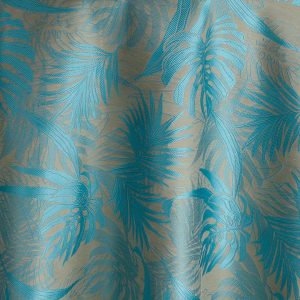 Aqua Calypso
Feel the breeze coming off of the ocean and the smell of salt in the air.  All will marvel at the feeling of the islands they will get with the timeless print of a plethora of palm fronds that come together for our Calypso design.  Whether one is remembering the fantastic island music of the central parts of the world, or the mythological nymph, your guests will have plenty to talk about.  Available in five harmonious shades, our Aqua Calypso is a cool Caribbean blue partnered with a light taupe-like tan.   Find the perfect match from the sands and waters within your visions, to find a color that will look superb within this island dream.
Add to Rental Quote