For several years my friend Katie would tell me "You're doing my wedding when I get married"! I gleefully smiled and agreed. During that same time period, I was fortunate enough to do the weddings for 2 other mutual friends. So last summer, when Katie call me, I was ecstatic to hear she had picked a date. The big challenge, Katie and Alex had just recently moved to California for their jobs.
Katie had emailed me many times with pictures of things she liked. All I could say was, "Let's wait and see the venue first, then decide on the décor". After the summer, Katie and Alex made one of several trips home to Michigan to plan their Big Day! Katie and Alex had chosen this new space called "The Eastern". I had never heard of it before, but I was curious. We met down in Detroit at the venue and it was very raw and in some aspects untouched for decades. The owners had done some major updates, but left the rustic brick and paint alone.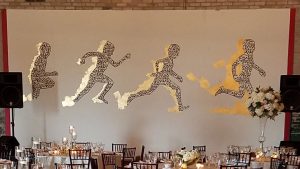 At the time, Katie's biggest concern aside from having to bring everything in, was the mural of the people running. Katie wanted it covered, but I talked her out of it. She did mention it a couple dozen times after that, but I kept reassuring her that covering it would be a bad idea. I thought it added a neat feature to the space and covering it would draw more attention that leaving it as is.
So the planning began and Katie and I shared ideas of what her and Alex wanted. They wanted Edison style lights strung inside and a chandelier over the dance floor. I thought to myself that now would be a great time to make a custom piece for this wedding. I sketched out what I was thinking and started buying parts.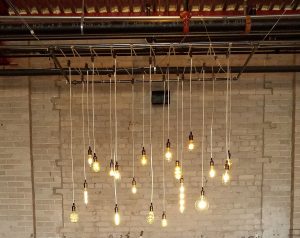 Then the parts sat on my floor for several months. It wasn't until about a month ago that I finally put my thoughts on paper into reality. I really wanted this to be a unique piece that fit in with the venue and the other items we were doing. Lastly, I scoured the internet for vintage looking bulbs that were LED. I wanted to retain the vintage feel but be energy efficient at the same time. The entire unit was completed and it uses less than 100 Watts of power.
Oh, so back to the planning… The ideas all started to come together and everything was looking great. Katie and Alex were visiting from California a couple more times and we had a chance to continue working on the wedding. All of a sudden, Katie and Alex both decided that they wanted to move back to Michigan. And that's what they did. They quit their jobs and came home to friends and family. It was a huge leap of faith for them to do that and I commend them on doing so.
So here comes the Big Day and I set out with my staff at 5:00AM to The Eastern to get everything set up. We also had to send staff to Comerica Park to set up chairs for the ceremony that was taking place there. The weather was not on our side and things started to look bleak. Not only was the ceremony outside, but we were stringing up lights outside The Eastern. I kept looking a the radar and it was not looking good. Now this being Michigan, you never know what will happen with the weather. So my staff and I set up everything outside as planned, in the rain!
By the time we finished installing all the tables and chairs, linens and lights, the rain picked up. I headed home to get ready for the ceremony. Remember, Katie and Alex are friends, so my wife and I were invited to the wedding as well. I was getting ready and rushing my wife out the door so we could stop back at The Eastern to check on the caterer and florist. We then headed over to Comerica Park for the ceremony and it was still raining. I was now stressing out over the rain. How could this happen to such great people? All the while, my wife kept reminding me that I did not bring an umbrella! Thanks dear for the reminder. The rain had slowed down and was now at a drizzle, but enough to make it miserable at best. We were standing around under cover at Comerica Park with close to 200 friends and family all there to see Katie and Alex get married. The staff at Comerica was diligently trying to dry the chairs off and vacuum up the puddles. All of a sudden, not more than 5 minutes before the ceremony, the rain stopped and the clouds slowly opened up. Everyone took their seats and closed their umbrellas. The ceremony took place and it was awesome.
After the ceremony was done, we had a little time to waste before the reception started. My wife and I walked around, went into a store and then to a little restaurant around the corner for a drink. We had a great time chatting with the family that lived across the street from Katie's family. They watched her grow up and with their daughter and now get married. We sat and shared a few more stories before the time came to go to the reception. We all walked out of the restaurant and the sun was shining and almost all the clouds had moved out. The weather was amazing and the temperature was perfect. The reception was perfect from beginning to end. My wife and I had such a great time at this event as did all the others in attendance. The bride and groom were happy with everything! It was such a pleasure working for friends and getting to attend as well. I hope you like the photos we have to share. Lyle….