Earlier this month I had the opportunity to design and execute the linens and decor for Anthony and Erica's wedding. While we get to do this quite often, this one was extra special. Erica is our oldest Daughter and I was honored to get to pick out the decor.
Originally Erica came to our west Bloomfield Gallery to look for what she wanted. Only to spend 90 minutes and looking at hundreds of linens, she could not decide. So my wife asked me to jump in and help out. At first I was reluctant as I wanted this to be her choice. Finally it was determined that nothing popped out to her and I was going to choose. The original colors were navy and gold, but I really did not want gold. Nothing in the wedding was gold, so why gold?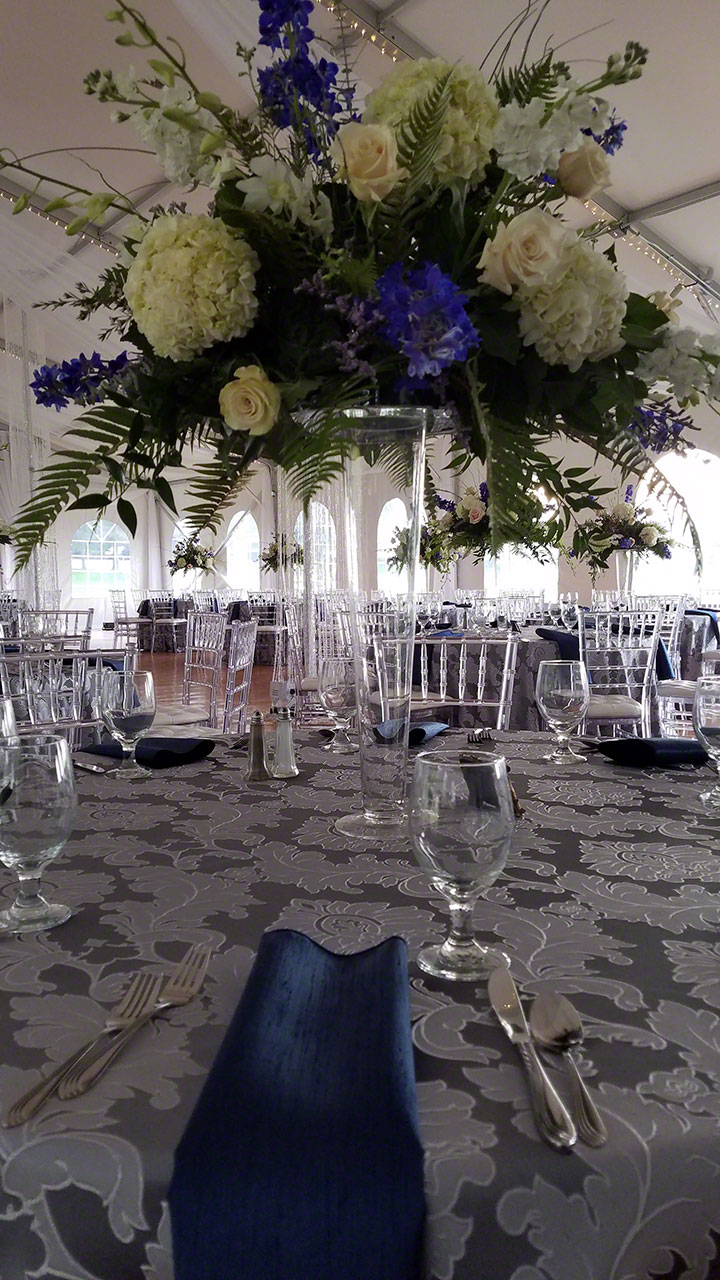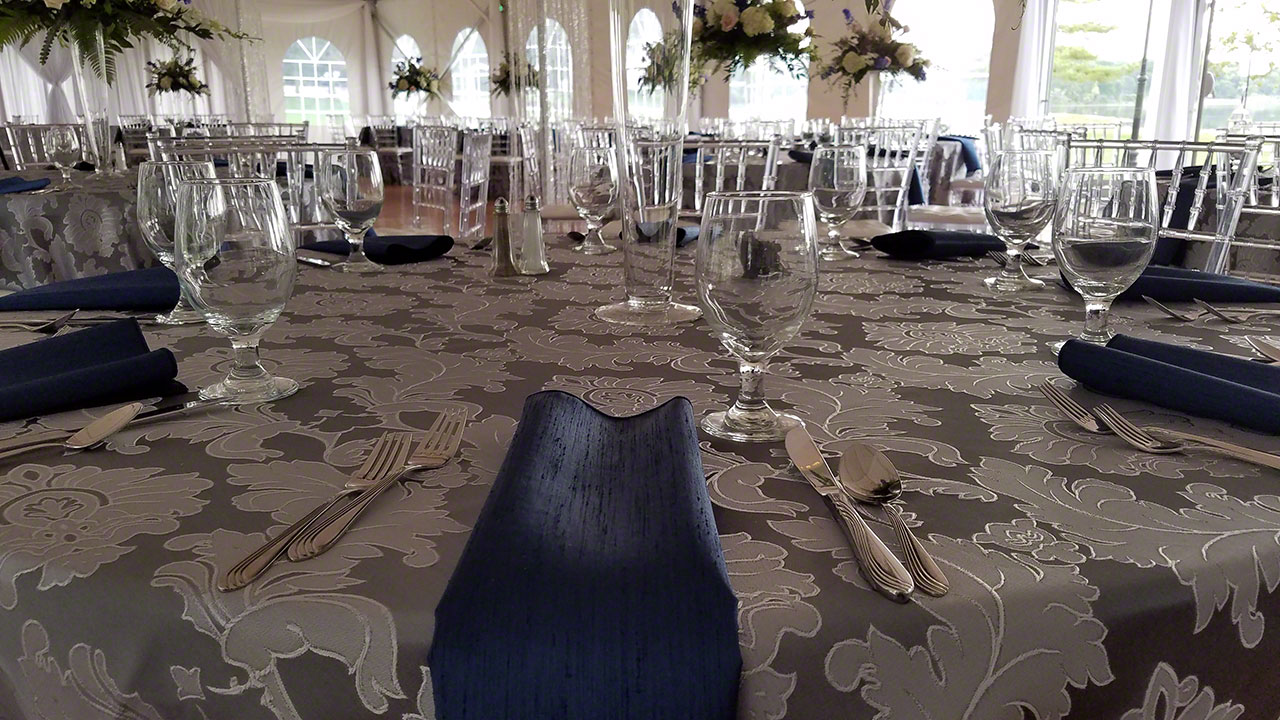 So after several weeks of thinking, I decided to use our Silver Alexandra Damask for the table linens. We custom made a navy shantung napkin with a matching poly back. Then we used our navy majesty dupioni on all the other tables. I showed my ideas to Anthony and Erica and they both loved it. That was where we left off, I kept everything else from them as I wanted it to be a surprise.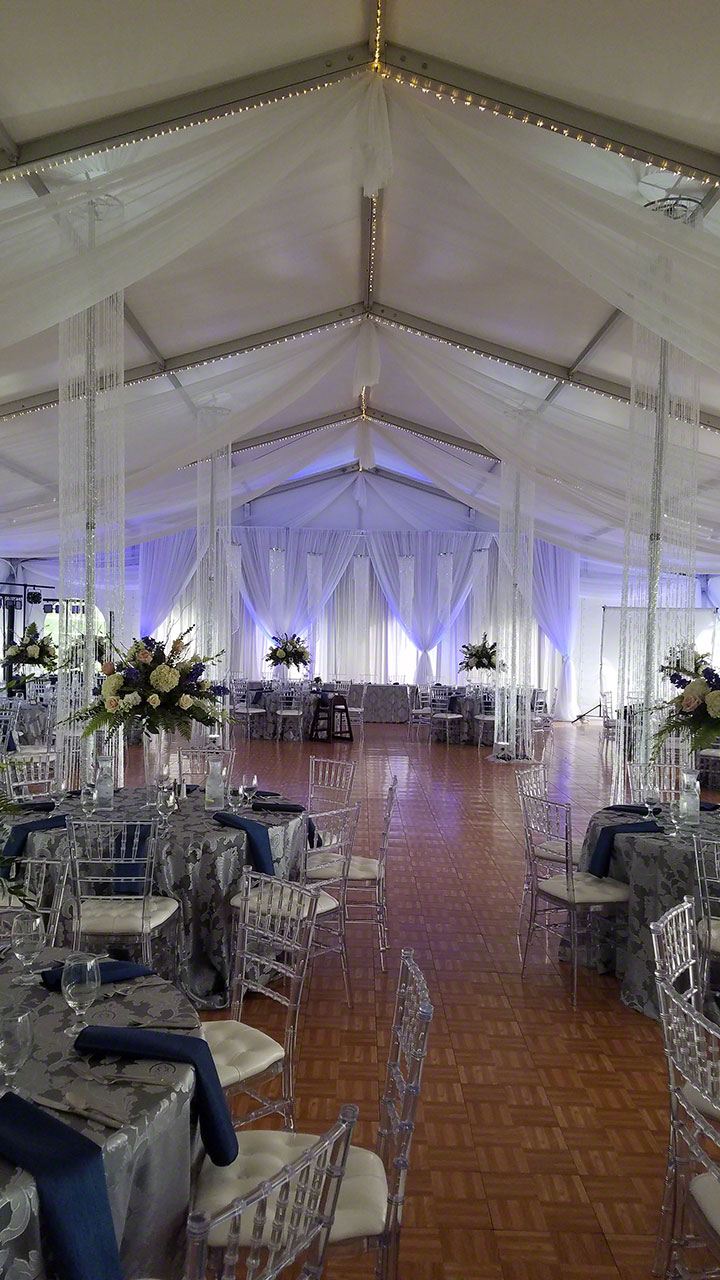 The big day came and myself and my team converged on the reception location. The reception was at Waldonwoods located in Hartland, Michigan, in their tent overlooking the water. I'm not a huge fan of tents as there are so many unknowns when working in them. Including the need to hide or mask the frame.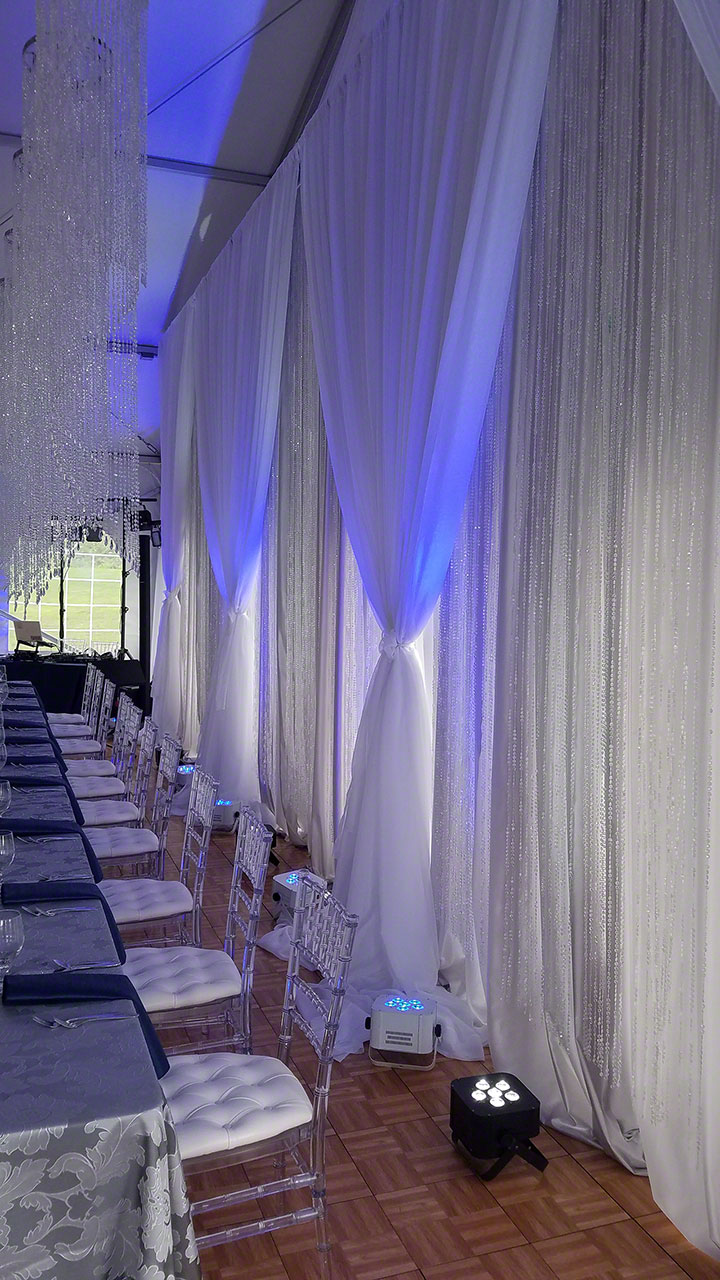 We started out by adding a triple layer backdrop behind the head table. The backdrop consisted of silver sateen, iridescent beads and white voile in the front. Once that was done, we hung 7 of our crystal spirals above the head table. These are 6' long and look amazing when lit up. Then we framed in the dance floor with our crystal columns extended up to ~16 feet. We installed our wireless LED pinspots throughout the ceiling to light up the centerpieces as well as the crystal spirals. For the crystal columns and the perimeter of the room, we use our wireless LED Uplights. We lit the room in blue with white accents and switched over to red as the evening progressed.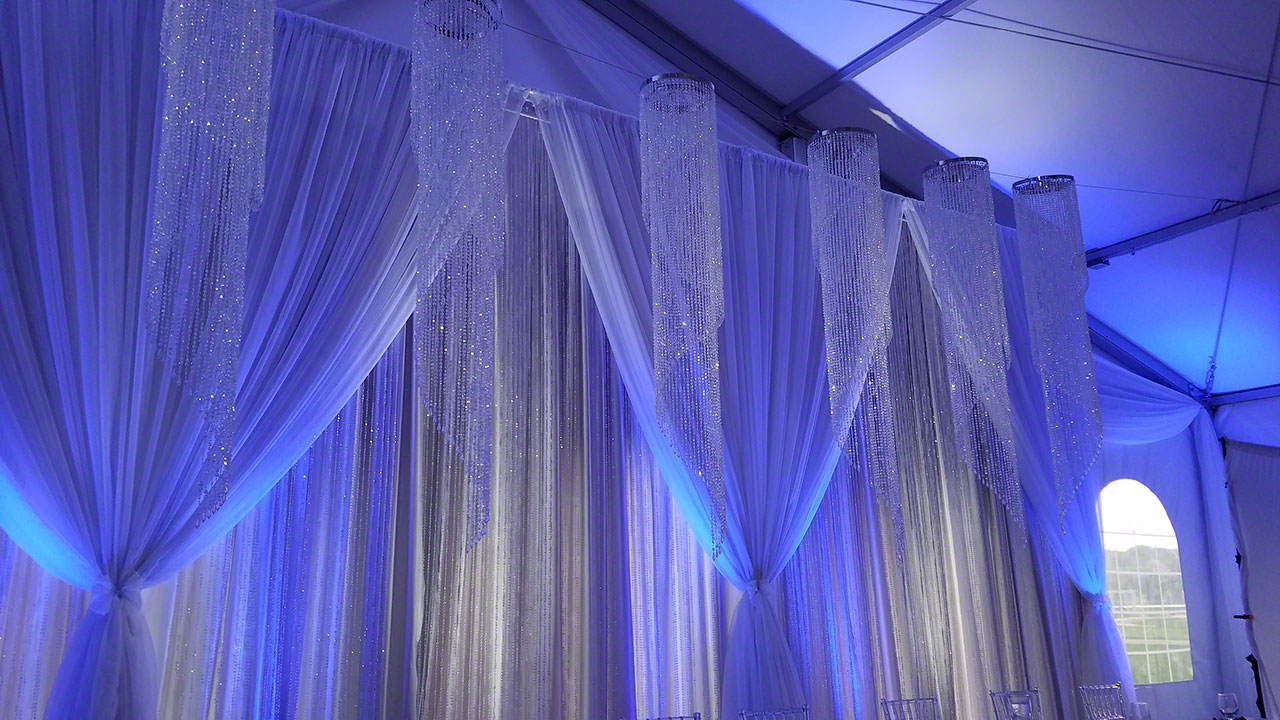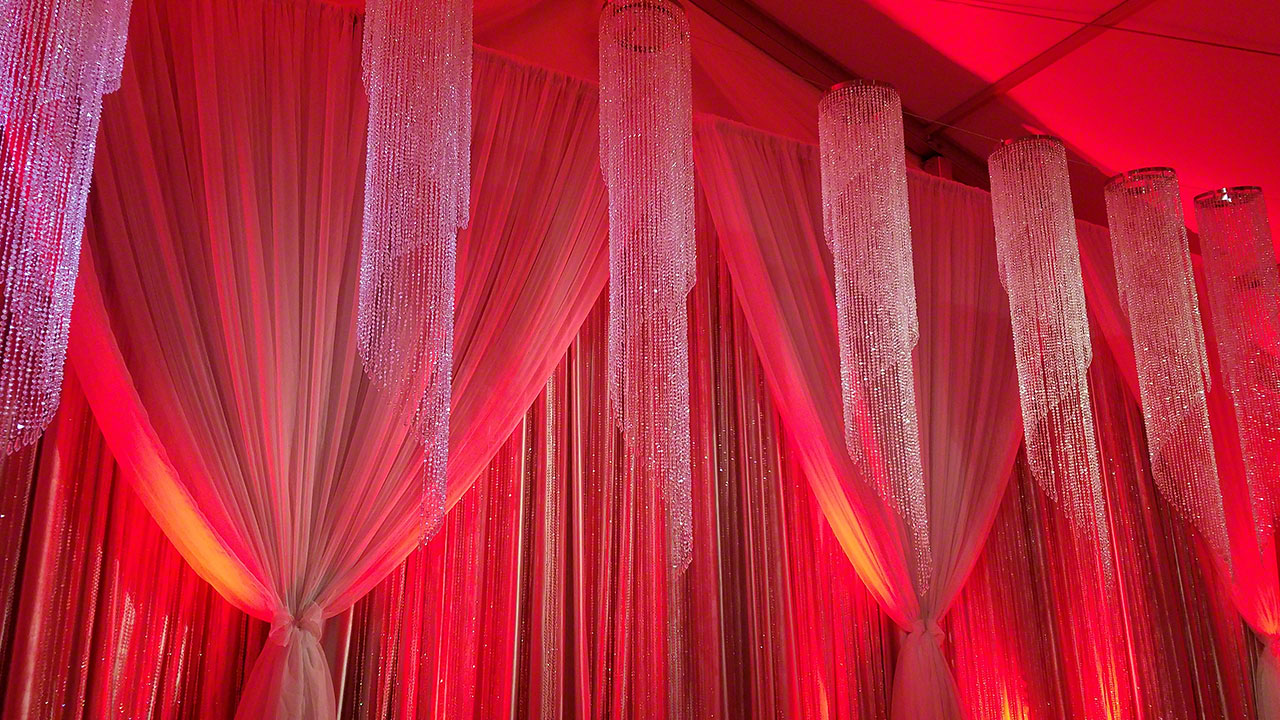 As mentioned, we used our Silver Alexandra Damask on all the guest tables along with our Navy Shantung Napkins. We brought in our crystal clear Chiavari chairs and added a white tufted chair pad. When everything was set, the transformation was amazing. We received numerous compliments from guests and staff. The staff had commented that the tent had never looked so good.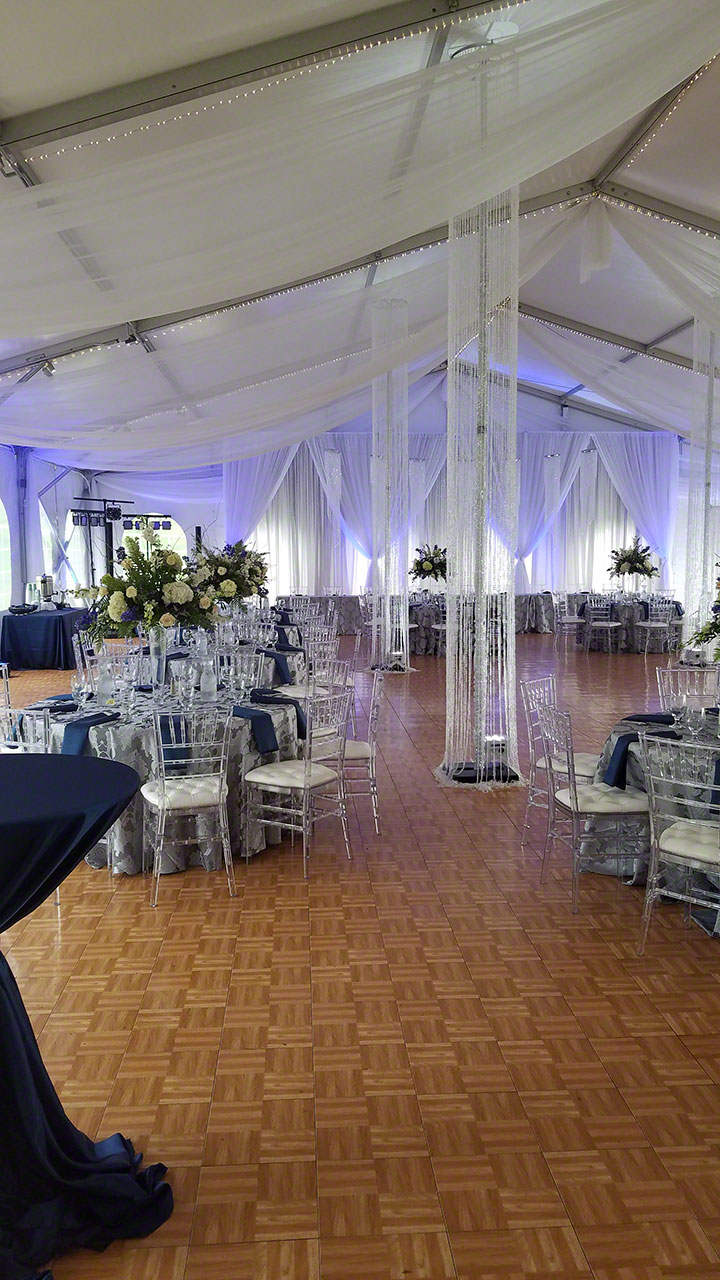 While we always work our hardest to make someone's day just right, It is always great to hear feedback. We have left the comments open below to hear what you have to say about this amazing event.
Enjoy,
Lyle