Mandarin Vintage Shantung
A touch of the past has been delivered into the present with this Designer Original fabric Mandarin Vintage. You will love the clean, white lines of the flowers, used in combination with the perfect orange tones to create these special event linens that will surprisingly coordinate lovingly with all other hues of the rainbow. We love the idea of using this round deep orange table linen rental not only for a fresh wedding, as the mandarin and white seem ready-made for such an event, but recreate all that your imagination can dream. We know this table linen can add a special something to any event.
Additional information
| | |
| --- | --- |
| Rental options | 120" Round, 132" Round, 90" x 132", 90" x 156", Dinner Napkin |
| Color(s) | Orange |
You may also like…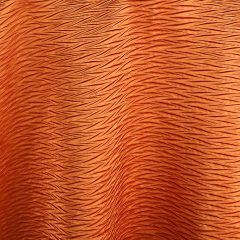 Mandarin Rhythm
The simple definition of Rhythm is "movement marked by the regulated succession of strong and weak elements, or of opposite or different conditions." A perfect definition for this wonderfully constructed textile. Texture and pattern fabricated with a skill, and produces a look that will have all your guests amazed and wanting to feel the luxury. Available in amazing hues, this orange will remind you of the regal hues of east Asia and will coordinate with a plethora of shades.