Taupe Twill
$2.20 – $47.30
Ease of our Classics, with a punch of elegance, our Twills are a unique find. These selections are somewhere between our Classic and Damask varieties you will get the best of both worlds. This Taupe hue is a little different than the Classic shade,little warmer, a little richer, and darker in flair. You will definitely appreciate the addition of these shade, to add more depth in your perfect table top design, and pair with all of colors of your garden. Don't forget to see how marvelous this combines with our Miramar and Graceful Sheer lines, since they will be the perfect blend at your next fete.
Additional information
| | |
| --- | --- |
| Rental options | 120" Round, 132" Round, 90" x 156", Dinner Napkin, Table Runner |
| Color(s) | Brown |
You may also like…
Taupe Charmed
Snake skin is one of those fads that never goes out of style. Our Charmed line has taken a page out of glamour and made a fashionable statement (with a subtle look of Houndstooth), and it is ready for your next event. The pattern can be a subtle play on texture with the luxurious feel, or you can play it up and have an enchanting animal themed celebration that will have them asking who planned your party. The Taupe Charmed is a magnificent combination of a soft, creamy ivory and a warm grayish-brown taupe, with a sheen that will capture any lighting to give it an evening glow. Mix it with your favorite color from the jungle, and see all the fun you can have with this animal chic.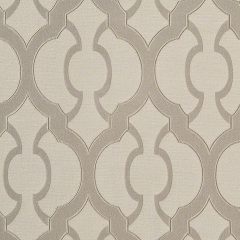 Taupe Miramar
Miramar linen are retro-chic with this play on the quatrefoil pattern, sending ribbons of rich color running through a creamy ivory background. Small seams outline the pattern to add texture and definition to this stylish design. Taupe Miramar linen combine the warm hues of soft ivory with a versatile, earthy grey for a stunning blend of neutral color and pattern.