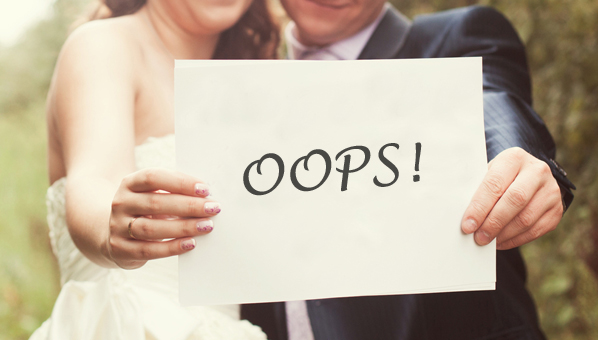 I started out in the wedding and event business in 1985, over 30 years ago. I can say that I have seen my fair share of wedding blunders, some worse than others. Many times, people do not even know they are doing something wrong until it blows up in their face. Here are some points to ponder!
1. Is your budget unrealistic?
Find out what things actually cost before solidifying your budget. Many brides and grooms do not know what to expect when it comes to a budget. This is where you need to do your homework. Talk to friends that may have recently married to see what they spent. You also need to set priorities, the must haves and the like to haves! This may be the time where you decide that a wedding for 400 people is ridiculous when you only want 200. People ask me how to save money all the time, I tell them to invite less people. Another thing, can you afford what you want to spend? Maybe your parents are paying, but find out what they are willing to pay. Starting your marriage in debt is not a good idea!
2. Assuming your Friends will Want to be in Your Wedding Party
Being a Bridesmaid, Groomsman, Maid of Honor or Best Man is not for everyone. Sometimes friends find themselves in a financial situation that won't allow them to say yes. Sometimes friends find themselves going through something in their lives that will prevent them from playing a role in your wedding. Being in another person's wedding party is an honor but it is also a commitment in terms of time and money, something we all might not have. The last thing you want is to have someone in your wedding party who says yes to you but really doesn't want to or feels pressure to say yes. When you ask your friends to be in your wedding party, give them the opportunity to say no – be willing to discuss this with them and don't judge them if they cannot say yes to your request for whatever reason. Declining your invitation to play a role in your wedding does not mean they don't love you and care for you.  It does not mean they don't want the best for you. And it doesn't mean they won't come to your wedding. The wedding party does not need to be huge, so think about it before you ask them. Keep in mind, if you are the first of your friends, you may be asked to stand up in 6-8 more weddings. That means 6-8 more dresses to buy and tuxes to rent!
As a side note, the same goes when moving. Don't ask for help, hire professionals. You will be asked to reciprocate at the worst possible times!
3. Let your vendors do their job!
You sought out and hired professionals, we hope, so let them do their job. If you did not have confidence in them, then why did you hire them. BTW, this does not go for family, we will tackle that next. While it might be tempting to control every last detail yourself, all you'll do is feel overwhelmed and potentially upset some of your vendors in the process.  They've been a part of many more weddings than you have and one of the best ways to thank your vendors is to have confidence in them and let them do their jobs with minimal intervention.
4. Should you hire your friends or family?
Now, this can be a tricky situation if not handled right away.
Hiring friends can be cheap (or free in a lot of cases)! Let's face it, we all want a deal, right? Weddings can be pricey and it's understandable that brides and grooms want to do what they can to cut costs.  But asking a friend or family member to be the photographer, DJ or videographer can be a disaster.
Many times, they are not necessarily professional wedding vendors. They may, for instance, take great photos of nature, or when hanging out with friends, but pulling off a wedding is another thing altogether. Same thing with DJs – your friend might have great musical taste and may have a good collection of music, but will he or she understand all of the formalities associated with weddings?  And will he or she really be able to play music that your parents and grandparents will also like? Remember, entertainment can make or break an event. You could and most likely will ruin your relationship if anything goes wrong.
What happens if your friend "the videographer" forgets to take the cap off the video camera during your ceremony or forgets to hit record, will you be able to forgive him or her the oversight? Unfortunately, I have seen this happen and it has resulted in life-long friendships being lost. Don't take the chance.
You're putting an extreme amount of pressure on your friend. They'll want to do their best, but their best might not be good enough. The stress you will put your friend through might be enough to ruin their fun at your wedding too.
Bottom line, avoid hiring friends or family for services that require them to focus the day of the event. If you are renting items, then go ahead. You will know if you are getting good product.
5. Don't stress over all the little details the day of your Wedding
Seems like common sense, right? Unfortunately all too often, the bride is worried about all the little details. Circle back to #3, let the vendors do their job. Trust me, if you are confident enough to hire them, let them do their job. You on the other hand, need to relax and enjoy your day. The last thing you want is to miss your own wedding only to watch it later on a video or viewing pictures. Who cares if the napkins are folded a different way? If the cocktail hour runs a little long, so be it. If you try to micromanage the day of, you will be very disappointed in yourself.
6. Think about your guests
Yes, this is YOUR big day, but the reception is for your friends and family to join in the celebration. Most times, they will arrive at the location before you. Make sure to plan the reception correctly. Make sure that your guests have some appetizers during cocktail hour even if you have not finished with your pictures. Do you have entertainment for your guests ahead of your arrival? You need to be a good host and let them all know that they are important to you, or you would not have invited them. If you have out of town guests, make sure they know the options for hotels and such, ahead of the big day.
7 – 1,000,000. Yep, a million things could turn into a huge blunder
Bottom line, make the most of this day. Enjoy it, cherish it, remember it. Hopefully you will be blessed to only do this once in your lifetime. Big does not mean better. Lastly, don't lose sight of the day.
Best Wishes,
Lyle Brous
President/CEO
Fabulous Events