Last month, Pantone, selected its 2017 Color of the Year, Greenery. According to Leatrice Eiseman, executive director of the Pantone Color Institute, "We don't all have access to the green forest, but we do have access to things we can bring into our home environment." The same goes true for weddings and events.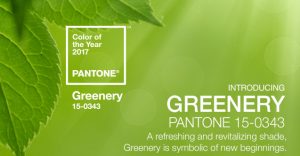 Pantone describes the color as "a fresh and zesty yellow-green shade that evokes the first days of spring… (and) symbolizes the re-connection we seek with nature, one another and a larger purpose amid a complex social and political landscape."
So this year we expect to see many shades of green popping into our events. Here are just a few of many choices we offer in greens. We look forward to seeing what our clients put together this season. So whether you are planning a wedding or birthday, a Bar/Bat Mitzvah or graduation, we can help. Call on Fabulous Events for all your rental needs.