Carlisle Lamour
$4.29 – $72.60
This original Design is as glorious as any garden you will come across. One could not imagine that you would be able to combine peach to red…turquoise to citron…with a Ivory background and gunmetal floral flourishes… and it could be this amazing. Set on our luscious Lamour, you will achieve the perfect amount of sheen for every lighting design. You will not need much to make this the "IT" party.
Additional information
| | |
| --- | --- |
| Rental options | 120" Round, 132" Round, Dinner Napkin |
| Color(s) | Ivory, Prints |
You may also like…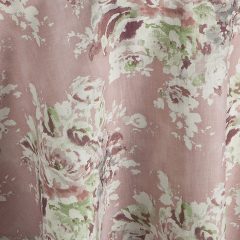 Rosewood Cora
The swirling oversize floral and unique look of Rosewood Cora are a distinctive blend of old fashioned elegance and modern appeal. The period allure of this linen will be enhanced with a mix of fine china and both vintage and contemporary accessories. Muted greens and subtle rose tones blend with the sandalwood background and shades of grey and aubergine to create a comfortable, familiar atmosphere that is very fresh.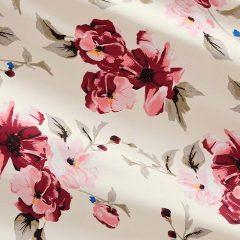 Abigail Floral Shantung
Beautiful florals are not just for your grandmother anymore. This updated original design is a bouquet of light to dark shades of red, from the lightest of pinks to the deep Merlot, set on a creamy shade of Ivory. Printed on a wonderful Shantung textile, Abigail Floral Shantung is perfection for your afternoon tea party, Mother's Day luncheon, spring botanical gala, and many more.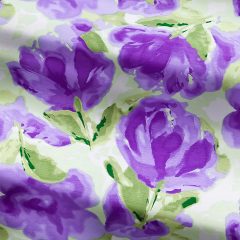 Giverny
We adore watercolors, and get inspiration from the Masters. This Original Design was inspired by Monet's favorite garden spot in France, and combines realism with a touch of the fantastical, so it comes as no surprise that our Giverny Shantung seems more like a painting than a table linen. Its lovely flowers fade into a background of white, making for special event linens that are both colorful and exceedingly gentle on the eyes. The serene-yet-striking colors in this table linen will draw you in. Pair it with another pop of an accent color, or just keep it to the original colors. The Giverny pattern is perfect for any occasion, but is exceptionally well-suited for your romantic events.