All the best dressed food can be found on our "food safe", glass base plates/chargers. Crafted by fine European artisans in exquisite colors that cross the color spectrum. Our base plates can accentuate our beautiful table linen, or stand alone on wood, metal and glass top tables. They also are perfect for passing hors d'oeuvres and as presentation plates. So go ahead and coordinate them with your caterer or chef for the perfect touch. Base plates enhance your tabletop décor and present a finished look for your guests as they take a seat at a well appointed table. No matter what the pattern and hue, our rental glass base plates are beautifully crafted, which elegantly complement your event design.

Call us TODAY at 877-200-2424 to talk to an Charger Rental Specialist.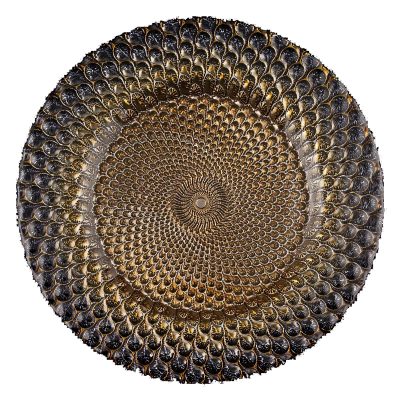 Luxe Black Gold Glass Charger
A combination of metallic jewel-tone gold and black, this fantastic charger plate with a wavy, scalloped pattern, will set the tone for pure elegance. Charger plates are back in a very big way, so be decadent in the way you serve your guests. Traditionally, rented chargers were used as simple placeholders, but due to advancements in the field of glass work, you'll find that our plate chargers are completely safe to touch, and you can even eat off them. So how would you use our Luxe Black Gold glass plate charger at your next event? Create the special table that will make your chef proud and leave your guests in awe. Because of its fragility and weight, contact our experienced design specialists for more information.