Citron Gigi
With the vintage appeal of a glamorous age, Citron Gigi has a slightly spunky personality that makes it a great choice for modern accessories. Its vibrant color and unique texture reflect light in surprising ways, to capture the spirit of a time that was at once both elegant and a little naughty. Emphasize the drama of this unique linen with contemporary accessories that are equally classy and distinctive.
Additional information
| | |
| --- | --- |
| Rental options | 108" Round, 108" x 156", 120" Round, 132" Round, 90" x 156", Table Runner |
| Color(s) | Green |
You may also like…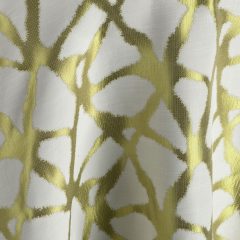 Kiwi Fractal
Not all Kaleidoscope displays are the same — that's why they are so appealing. Kiwi Fractal dazzles with a single unusual tone, but the form and shape of the pattern opens up a world of design possibility. That's the beauty of the Kaleidoscope Collection; each linen pattern can appear with a variety of faces, dependent only on the designer's vision!