Fog Hidden Garden
$4.68 – $103.40
A soft, romantic greige in a classic damask pattern. Hidden Garden Fog has the look of misty fog rolling in, creating soft variations in color and hue. Perfect for garden parties and ballrooms alike, this versatile design is a timeless choice that's easy to make.
Description
Dance through dazzling prismatic glamour and breathtaking misty allure with our Crystal Cloud Collection. Click here to see all the options!
Additional information
| | |
| --- | --- |
| Color(s) | Beige |
| Rental options | 108" Round, 108" x 156", 120" Round, 132" Round, 90" x 156", Dinner Napkin, Table Runner |
You may also like…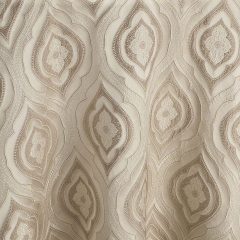 Ecru Jacinda
Meaning "beautiful or attractive" in Greek, our Ecru Jacinda is precisely that. Reminiscent design of the protective Nazar, this textile is distinctive and unparalleled to any other. The addition of Ecru to our color classifications finds the perfect harmony between ivory and brown, creating a light beige hue most associated with the color of unbleached linen. The royals would be confident to incorporate this as part of their next festivity. Bring together this fabulous design with its companion pieces, Ecru Xander and/or Ecru Tori, to find a marriage of design and form that will have your guests talking about for time to come. With beautiful neutrality, all of the combinations you can imagine will come to light with ease. Do not hold back and bring out all of your creative flair to make an event that is a pure reflection of you.