Mandarin Rhythm
$50.00 – $79.20
The simple definition of Rhythm is "movement marked by the regulated succession of strong and weak elements, or of opposite or different conditions." A perfect definition for this wonderfully constructed textile. Texture and pattern fabricated with a skill, and produces a look that will have all your guests amazed and wanting to feel the luxury. Available in amazing hues, this orange will remind you of the regal hues of east Asia and will coordinate with a plethora of shades.
Additional information
| | |
| --- | --- |
| Rental options | 108" Round, 108" x 156", 120" Round, 132" Round, 90" x 156" |
| Color(s) | Orange |
You may also like…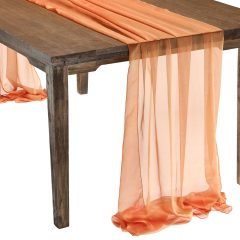 Mandarin Graceful
Fabricated size is 172″L X 40″W. Beauty and Grace…the epitome of our remarkable runner line. Graceful Table Drapes. Made of an elegant chiffon, most commonly seen in fashionable formal wear, it is loved for its ability to drape well, and adds an ethereal flowy appearance. Our Gracefuls are rich in color (and offered in twelve stylish hues), which will add the right amount of glamour to any event you dream. Our Mandarin Graceful is two-tone softer bright orange and yellow, that will add just the right intriguing wonder. With no seams or restrictions, our Table Drapes are fashioned to cascade down the sides of your tables exquisitely to create effortless beauty. Explore your creativity and share with us your stylish designs.