Pink Radar
With a presence that cannot be ignored and an appeal that cannot be disputed, the vibrant colors and abstract floral pattern of this luscious deep-toned table linen are inspired. Light plays in varying intensity on the brilliant pink and golds of the dark background.It suggests passion and indulgence of the best kind, and is a marvelous base for rich gold accessories and exotic blooms.Pink Radar is just one of the standout choices in the Haute Pink collection, equally suitable for lavish affairs and for informal events.
Additional information
| | |
| --- | --- |
| Rental options | 108" Round, 108" x 156", 120" Round, 132" Round, 90" x 156", Table Runner |
| Color(s) | Pink |
You may also like…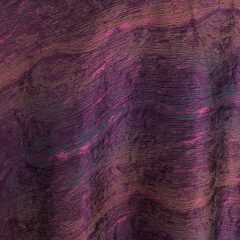 Aubergine Marble
Aubergine Marble is a table linen that can play a supporting role to bright pink, terracotta tones or capture a deeply romantic vision when paired with charcoal and taupe. The aura of the unknown is part of the allure of Aubergine Marble, and its distinctive rich overall pattern is a versatile addition to the Haute Pink Collection.This linen is a natural for formal contemporary settings as well as for outdoor informality.