Sage Crest
Early summer begins its welcoming embrace. Magnolias march into the distance, blowsy and scented, and waves crash against the marsh-lined coastline. A sailboat bobs in the distance, and a spirited game of croquet commences on the impossibly green lawn that extends from here to eternity. The sun sparkles overhead, and the afternoon beckons. A glass of mint-spiked lemonade and laughter in the distance. Embrace the fantasy.
Description
Inspiration awaits! Click HERE to view the Complete Southern Charm Collection by Madcap Cottage.
Additional information
| | |
| --- | --- |
| Color(s) | Green |
| Rental options | 108" Round, 108" x 156", 120" Round, 132" Round, 90" x 156", Dinner Napkin, Table Runner |
You may also like…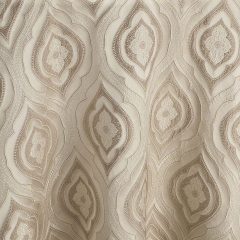 Ecru Jacinda
Meaning "beautiful or attractive" in Greek, our Ecru Jacinda is precisely that. Reminiscent design of the protective Nazar, this textile is distinctive and unparalleled to any other. The addition of Ecru to our color classifications finds the perfect harmony between ivory and brown, creating a light beige hue most associated with the color of unbleached linen. The royals would be confident to incorporate this as part of their next festivity. Bring together this fabulous design with its companion pieces, Ecru Xander and/or Ecru Tori, to find a marriage of design and form that will have your guests talking about for time to come. With beautiful neutrality, all of the combinations you can imagine will come to light with ease. Do not hold back and bring out all of your creative flair to make an event that is a pure reflection of you.