All the best dressed food can be found on our "food safe", glass base plates/chargers. Crafted by fine European artisans in exquisite colors that cross the color spectrum. Our base plates can accentuate our beautiful table linen, or stand alone on wood, metal and glass top tables. They also are perfect for passing hors d'oeuvres and as presentation plates. So go ahead and coordinate them with your caterer or chef for the perfect touch. Base plates enhance your tabletop décor and present a finished look for your guests as they take a seat at a well appointed table. No matter what the pattern and hue, our rental glass base plates are beautifully crafted, which elegantly complement your event design.

Call us TODAY at 877-200-2424 to talk to an Charger Rental Specialist.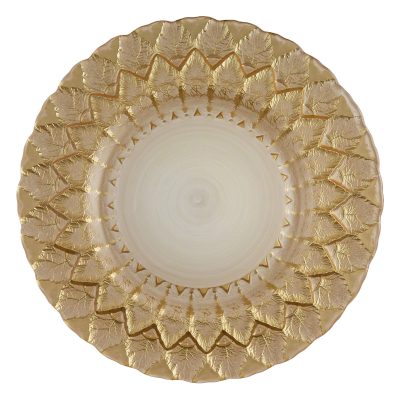 Florence Gold Cream Glass Charger
When asking on to think of Florence, one will probably reflect on the artistry of the Renaissance and a city filled with the epitome of Italian culture.   This design is an amazing model of all that wrapped together in this perfect package.  Our Gold Crème version has a backdrop of a light crème toned hue with a foreground of a gold foiled design with the old world 24K shade, which comes together in nature's wonder on top of the ancient leaves carved out of glass.  When viewing this beauty, you will want to design an event around this unmatched offering.   And don't forget, our chargers are crafted to be food safe, so you can use them within your design, as well as in your food service. Because of its fragility and weight, contact our experienced design specialists.