All the best dressed food can be found on our "food safe", glass base plates/chargers. Crafted by fine European artisans in exquisite colors that cross the color spectrum. Our base plates can accentuate our beautiful table linen, or stand alone on wood, metal and glass top tables. They also are perfect for passing hors d'oeuvres and as presentation plates. So go ahead and coordinate them with your caterer or chef for the perfect touch. Base plates enhance your tabletop décor and present a finished look for your guests as they take a seat at a well appointed table. No matter what the pattern and hue, our rental glass base plates are beautifully crafted, which elegantly complement your event design.

Call us TODAY at 877-200-2424 to talk to an Charger Rental Specialist.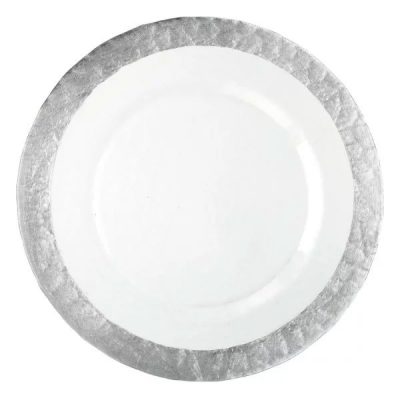 Ice Clear with Silver Rim Glass Charger
In the time of Renaissance artisans, foiling was a technique to add shavings of silver to the walls and ceilings of the most regal of residences.  In our modern times, we can add that galore to every event with our family of Ice Chargers.  The silver rim adds a flawless amount of accessory to your tabletop décor.  Our Silver is a subtle reflective with just a dash of sterling…a gray in the center of all grays.  With the clear center, you can relish in the table linen found underneath, or add a menu to complete your vision.  And don't forget, our chargers are crafted to be food safe, so you can use them within your design, as well as in your food service. Because of its fragility and weight, contact our experienced design specialists.