Our continually increasing selection of Table Runners makes us the industry leader in linen rentals. Using runners on your table is a fantastic way to make a big style impact while being mindful of a budget. Use our runners on any size table, with or without a base cloth. These are perfect for farm tables, dessert tables and buffets as well. You can run one down the center of the table or even crisscross several in a pattern. The options are endless, just like our selection of linens and runners. Look below to see all the amazing colors, styles and textures of table runners available to rent for your special event.
Call us TODAY at 877-200-2424 to talk to an Event Rental Specialist about your Table Runners.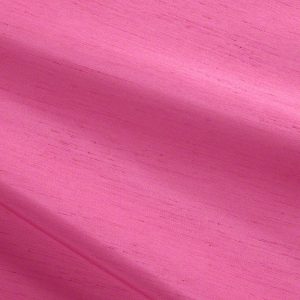 Azalea Shantung
Who would not want silk tablecloths draping their event tables? Our Shantung rental table linens are the way we can all afford this lusciousness. A southern essential, Azalea Shantung is an energetic bright pink that reminds us of spring throughout the entire year. Your event will be dressed even better than your guests in these fashion inspired hue and texture.
Select options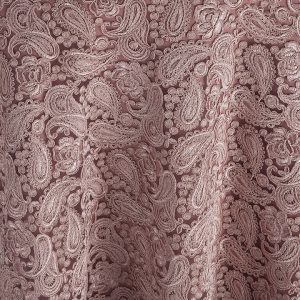 Ballet Mariana
An ornate pattern that recalls Victorian luxury is an extraordinary choice for a table setting that blends the elegance and tradition of past era with modern sensibility. Layer this ornate openwork design over soothing solid color linen to create a motif that emphasizes vintage romantic style, but is totally in tune with modernity. The intricate handmade texture of this unique lace needs little additional embellishment. Complete the table setting with simple china and classic crystal and silver, and simple accessories. Ballet Mariana will set the right mood for a beautiful celebration.
Select options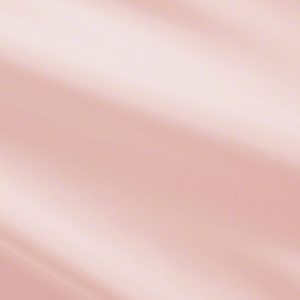 Blush Alexis
No rose colored lenses needed here! This blush table linen is the perfect, palest shade of pink, with just the slightest touch of lavender. Pale enough to use as a neutral, yet exceedingly gentle on the eye, this table linen is perfect for wedding rental and other romantic events. So whether you are planning your special day or hoping to decorate a venue for a formal gathering, this Blush Alexis table linen is a sure winner. If you need a little inspiration, visit our Gallery to find how this beautiful round pink table linen rental can make for a perfect, beautiful, unforgettable day.
Select options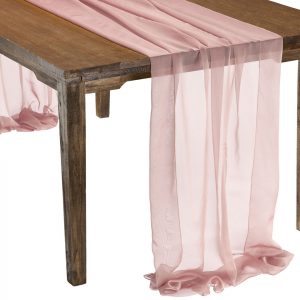 Blush Graceful
Fabricated size is 172″L X 40″W. Beauty and Grace…the epitome of our remarkable runner line…Graceful Table Drapes. Made of an elegant chiffon, most commonly seen in fashionable formal wear, it is loved for its ability to drape well, and adds an ethereal flowy appearance. Our Gracefuls are rich in color (and offered in ten stylish hues), which will add the right amount of glamour to any event you dream. Our Blush Graceful is soft, romantic Cameo pink, that will add the perfect touch of romanticism. With no seams or restrictions, our Table Drapes are fashioned to cascade down the sides of your tables exquisitely to create effortless beauty.  Explore your creativity and share with us your stylish designs.
Select options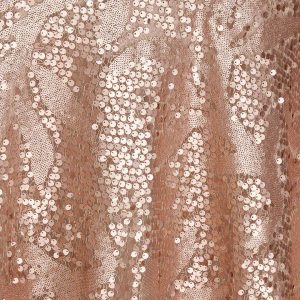 Cameo Mystique
Photographed over Taupe Classic   With the variety of stitching to create this wooden landscape with an amalgamation of different sized matte sequins, Cameo Mystique is just simply marvelous with just the right amount of reflection. With the beauty of our Cameo Shantung, this sequined cloth is simply a dream. Delicate to the touch, this hue soft blush pink, with a touch of gray, shade will be heightened with an earthen shade of Pistachio or Loden green, or will punch on top of Mulberry Lamour. There are so many combinations you will want to try, because of its eternal and ethereal beauty.
Select options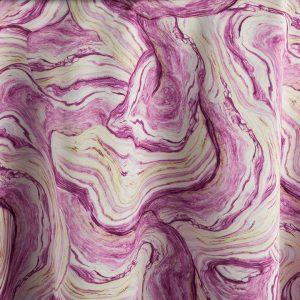 Cerise Agate
Taken from the swirling patterns and spectacular beauty of marble and granite, and the surprising color combinations found in simple materials, Cerise Agate calls to mind the spectacular beauty of earth's many treasures. Cerise tones blend and complement pale gold and taupe for subtle excitement that is also calming.  Lend an enduring elegance to table settings that are neutral and demure or, alternately, layer this pattern with other jewel tones to add an unexpected pop. It's a natural addition to the Haute Pink Collection for both lavish events and casual contemporary gatherings.
Select options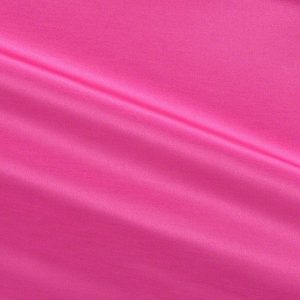 Cerise Bengaline
Texture is still the most sought out item in tablecloth linen rental. Bengaline is that tablecloth with the subtle ribbed texture, with just enough sheen to not fall flat. Steeped in Hollywood's past, this bright deep pink Cerise is the color that is famous because everyone wants it.
Select options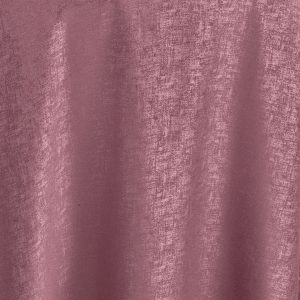 Crepe Lennox
The soft pinkish hue of Crepe Lennox sets an endearing, playful and yet tantalizing tone to table design. The dobby weave entices viewers, revealing a secretive livelihood with every reflected gleam of light. Crepe Lennox, like all Lennox fabrics in our Secret Garden collection, draws the eye in and leaves you wanting more.
Select options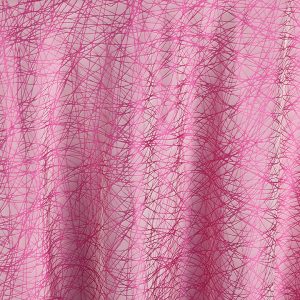 Fuchsia Pascal
A bold rosy pattern of intersecting lines on a pale background lends youthful appeal to Fuchsia Pascal. Unleash its playful personality by using it to accent solid color linen in matching or contrasting tones. Pair it with its orchid twin for dramatic pattern-on-pattern excitement. The intricate design is as adaptable as a chameleon, and we think it has the staying power of a designer classic. It's a charming example of the fresh looks embodied in the Haute Pink Collection, perfect for upcoming events with both casual and formal themes.
Select options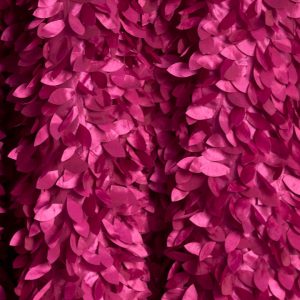 Fuchsia Petal
Fuchsia Petal is a unique "statement piece." It doesn't require a lot of this linen to lift your event from the ordinary to the sublime, whether you use it as a sophisticated departure from the traditional or as added element of surprise it surely adds energy and engagement. In a bold lipstick color, Fuchsia Petal is the keystone of the Haute Pink Collection — surprising, and flirty it's easy to love in both upscale and casual settings.
Select options