Our continually increasing selection of Table Runners makes us the industry leader in linen rentals. Using runners on your table is a fantastic way to make a big style impact while being mindful of a budget. Use our runners on any size table, with or without a base cloth. These are perfect for farm tables, dessert tables and buffets as well. You can run one down the center of the table or even crisscross several in a pattern. The options are endless, just like our selection of linens and runners. Look below to see all the amazing colors, styles and textures of table runners available to rent for your special event.
Call us TODAY at 877-200-2424 to talk to an Event Rental Specialist about your Table Runners.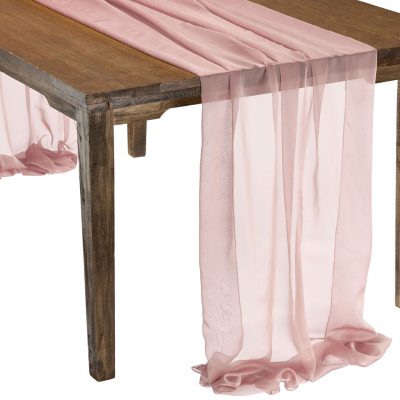 Blush Graceful
Fabricated size is 172″L X 40″W. Beauty and Grace…the epitome of our remarkable runner line?Graceful Table Drapes. Made of an elegant chiffon, most commonly seen in fashionable formal wear, it is loved for its ability to drape well, and adds an ethereal flowy appearance. Our Gracefuls are rich in color (and offered in ten stylish hues), which will add the right amount of glamour to any event you dream. Our Blush Graceful is soft, romantic Cameo pink, that will add the perfect touch of romanticism. With no seams or restrictions, our Table Drapes are fashioned to cascade down the sides of your tables exquisitely to create effortless beauty.? Explore your creativity and share with us your stylish designs.