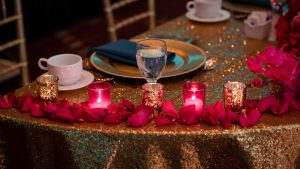 Your wedding deserves to be special, and having great décor can make this happen. Your tablescapes decide the impact of your reception décor to a great extent. Good quality table linens that match your theme will increase the appeal of your décor manifold.
Good linens are expensive, and buying them for just your wedding day isn't sensible nor economical. The cost-effective and efficient way to have beautiful tablescapes is to rent table linens from a reliable rental company.
The team from Best for Bride, the wedding dress chain from Canada, suggest the following tips for prospective brides to rent table linens for their wedding day.
Do your research early
Start your research for your wedding linens early, and you will have enough time to find the best choice for your budget and theme. You have to choose the right vendor, analyze your options, compare prices, fix the rest of the details and place your order. So, make sure you have enough time for all this.
Figure out the right size
The ideal linen size would depend on the type of tables at your venue. To identify this, you should know the table measurements. Add an extra 60 inches to the actual measure to ensure the table cloth you choose covers every visible area of the table, including the legs.
Try to personally check out colors and fabrics
Different companies may call the same fabric by different names. So it isn't easy to understand what the description for an item actually means, till you see it in person. The safest way to understand what you will get is to visit the shop in person and see samples. Compare sample linens to correctly determine what you want for the impact you desire.
Understand the costs properly
Before you place your actual order, make sure you clearly understand what the costs include. The cost may or may not include shipping charges and setting up charges. So, clarify this point. The vendor may offer a discount if the order is for a weekday or in the off-peak season. Explore these options to get the best possible deal.
Always choose a reliable vendor
The rental company you choose will usually have used the linens previously at other events. Nevertheless, a good company will take care of its linens and you should receive a uniform lot with no faded or worn-out pieces. Good quality linens will affect the overall quality of your décor. So, choose a reliable vendor with good feedback to get your money's worth.
This article was written by a guest author on behalf of Fabulous Events.
Author Bio: Best for Bride (www.BestForBride.com) is a Canadian bridal destination, with an online shopping service option as well. They feature a wide range of designer wedding dress collections, bridesmaid's dresses and dresses for special occasions. With wedding dress alterations, accessory sales and a range of vendor services, this bridal chain caters to every need of the modern bride.