Milk Alabaster Glass Charger
$10.00
Pure elegance, this fine white charger rimmed with a precise gold border is a graceful way to elevate the luxury of any event.  Milk Alabaster's classical lines and colors are the epitome of refined taste and are as smooth as pure alabaster. Our chargers are all food safe and can be used to add elegance to your event or in food service.
Description
Rent Milk Alabaster Glass chargers for a perfect balance of simplicity and luxury. View more Glass Chargers for your event rental.
You may also like…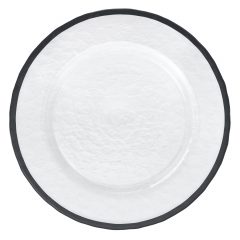 Clear Hammered w/Black Rim Glass Charger
Clean, modern lines and an elegant hammered texture make this charger ideal for a variety of tablescape styles. A crisp, clear, glass plate outlined by a perfect black rim, Black Hammered brings a tasteful and dignified contrast to your place settings. All of our chargers are designed to be food safe, so you can use them in food service or to elevate your design.