Description
Our iridescent crush linens bring a shimmer to any event.
Additional information
| | |
| --- | --- |
| Rental options | 108" Round, 120" Round, 132" Round, 90" x 132", 90" x 156", Dinner Napkin, Sash |
| Color(s) | Black |
You may also like…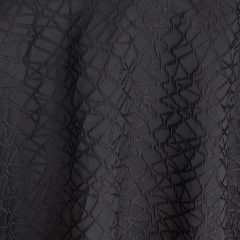 Onyx Digital – Gold Kroft a Kehoe Collection
Large scale matte and glossy, Onyx Digital is a versatile pattern that is new and forward thinking. Part of the Gold Kroft Kehoe Collection, from our Designer Series, this deep black and elegantly patterned table linen makes for the perfect foundation for nearly any event table. You can pair it with lighter linens for a complete unique look that will make your event space stand out. It's all in the way you layer it, that makes this collection bold and full of aspiration.
Onyx Velvet (B)
Black is back, and is now available in striking, luxurious plush velvet. Choose Onyx Velvet for an event table that brings a rich opulence. The velvet collection is specially woven and dyed to achieve a deep rich color that embodies decadence. Velvet has a soft drape that creates graceful folds and a shimmering surface. For the ultimate in luxury in daring black, create a truly unforgettable event design with Onyx Velvet above and beyond the ordinary.