Blush Alabaster Glass Charger
Swirls of a pearly pink amidst lighter shades of blushes and roses bordered with a perfectly precise gold rim. Blush Alabaster is all class and romance, and this semi-opaque coupe charger will elevate the look of any tablescape. Our chargers are all food safe and can be used to add pizzazz and elegance to your event or in food service.
Description
Rent Blush Alabaster Glass chargers for a perfect balance of simplicity and luxury. View more Glass Chargers for your event rental.
You may also like…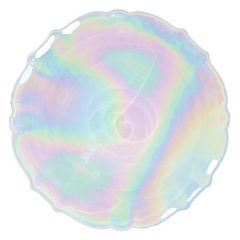 Luster Scallop Glass Charger
An iridescent pearl glimmering in the sun, Luster Scallop will add luster to your tablescape. Subtle pinks, blues, greens, and yellows reflect in the light on a pearly-white background. Like a shining opal with a scalloped edge, this coupe charger brings glamour to any event. All of our chargers are designed to be food safe, so you can use them in food service or to elevate your design.