Leaf Twill
$2.00 – $43.00
Ease of our Classics, with a punch of elegance, our Twills are a unique find. These selections are somewhere between our Classic and Damask varieties you will get the best of both worlds. Our Leaf hue is fabulous soft green like no other in our line. Similar to our Pistachio, it has a little less yellow, making is a little softer. You will love its capacity for making every color shine, and allows you to create the perfect next table top design. Don' forget to see how marvelous this combines with our Miramar and Graceful Sheer lines, since they will be the perfect blend at your next fete.
Additional information
| | |
| --- | --- |
| Rental options | 120" Round, 132" Round, 90" x 156", Dinner Napkin, Table Runner |
| Color(s) | Green |
You may also like…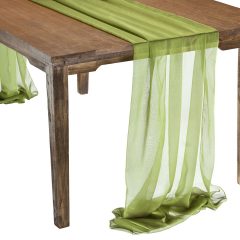 Leaf Graceful
Fabricated size is 172″L X 40″W. Beauty and Grace…the epitome of our remarkable runner line. Graceful Table Drapes. Made of an elegant chiffon, most commonly seen in fashionable formal wear, it is loved for its ability to drape well, and adds an ethereal flowy appearance. Our Gracefuls are rich in color (and offered in twelve stylish hues), which will add the right amount of glamour to any event you dream. Our Leaf Graceful is a glowing green with a hint of yellow, that will add just the right floral backdrop. With no seams or restrictions, our Table Drapes are fashioned to cascade down the sides of your tables exquisitely to create effortless beauty. Explore your creativity and share with us your stylish designs.