Fabulous Events has the Napkin Rentals you need for your special event. Whether tied in a knot or folded into a menu holder, napkins are more than just a functional item. Our napkins will add that pop of color or subtle addition to your table design. We even offer napkin rings if you want to go that route. Contact one of our Event Designers today to aide you in that perfect detail that pulls the entire table décor together. With our unparalleled selection, choosing your napkins will be fun! Let your creativity flow; take risks, be bold, or reinforce your elegant vision. Best of all, depending on the selection you make, your napkins can blend in or pop on the table!
Check out our extensive collection below to find the perfect napkin to compliment your table.
Call us TODAY at 877-200-2424 to speak to one of our Experienced Event Designers.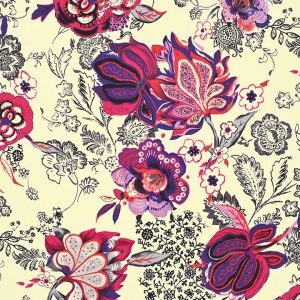 Adele Lamour
This original design is a glorious garden that would make any little girl swoon. One could not imagine that you would be able to combine reds and purples together on a Ivory background and gunmetal floral flourishes… and it could be this amazing. Set on our luscious Lamour, you will achieve the perfect amount of sheen for every lighting design. You will not need much to make this the "IT" party!
Select options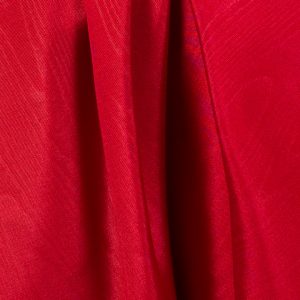 Turkey Red Bengaline Moire
Our Bengaline Moire linens have a classic yet elegant look and texture. These linens are a nice weight and texture to the touch. Mix and match the large variety of colors to make a statement.
Select options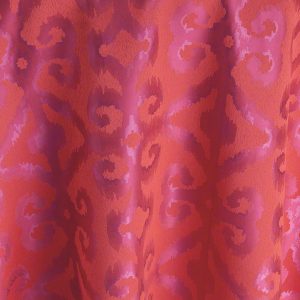 Poppy Bravado
When looking at the definition of this distinctive word, you would find it described as "a bold manner" or "a show of boldness intended to impress."    That is exactly what you will do with this remarkable jacquard pattern……Impress!   Not too feminine and not too masculine, this has the perfect design esthetic, which will astonish at any celebration.  Our Poppy adaptation has a poppy red interwoven with mid azalea pink that creates an interpretation that is a dance of several red family hues.   Do not miss the opportunity to unite both sides together at the same fête, or use it alone with the coordinating Duet.   Be bold, be unique, be impressive!
Select options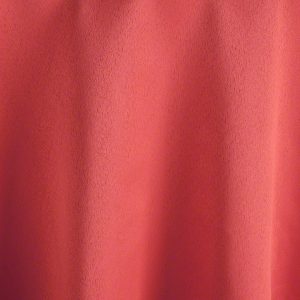 Poppy Duet
Our Duet will make your guests sing its praise.   As in the perfect musical pairing, our Duet has a poppy red on one side and a medium azalea on the other, you will find the perfect pairing for our coordinating Bravado fabrics.   Corporate functions, weddings or any of your next celebrations, our Duet will add the perfect end note with subtle elegance, and a design that will blend like no other design in our design house.   You will find endless possibilities for this beauty, and create the perfect event around this unique flair.
Select options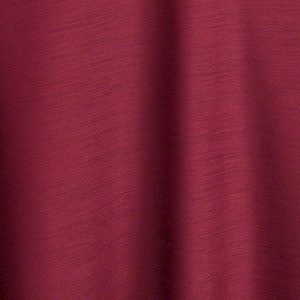 Burgundy Majesty Dupioni
This Faux Dupioni linen can be flipped over to reveal a satin side as well. Create two different looks with one unique linen! All linens are seamless with the exception of 132″ round
Select options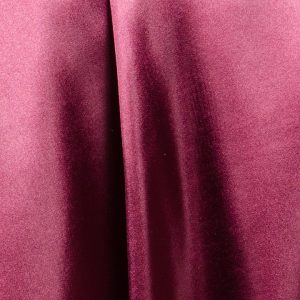 Cherry Whirl
As whimsical as a child with a fistful of red balloons, this exuberant pattern in the new Fabulous Events Envie Collection lives large! Use Cherry Whirl Table Linen alone or layer a Table Runner over bare wood or solid linen to add spark and verve at your next event. The unique "presence" of this pattern makes it an inspired choice for a lighthearted celebration, and it will be an attention-getter at any event!
Select options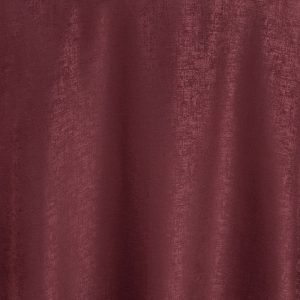 Claret Lennox
The deep wine color of Claret Lennox evokes equally deep sophistication and intrigue, perfectly embodying our Secret Garden collection. Rich and indulgent, the artfully dobby weave gives the linen a provocative sheen one could get lost in. The Lennox fabric is as bold and dynamic as its namesake, Mary Lennox in The Secret Garden.
Select options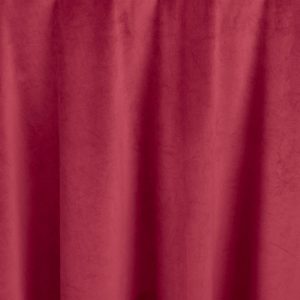 Crimson Velvet (B)
After the long night, the light returns. Crimson Velvet is inspired by the light returning after the Winter Solstice, the longest night of the year. Reminiscent of the blood-red orange of the sun rising and bringing hope, this linen's velvet moves with rich and graceful draping. Bring the luxury of velvet to your tablescape.
Select options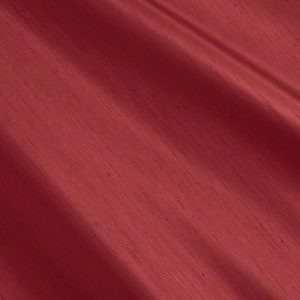 Merlot Shantung
Who would not want silk tablecloths draping their event tables? Our Shantung rental table linens are the way we can all afford this lusciousness. A vintage color that will remind you of your favorite luscious wine, Merlot Shantung (like the wine) has medium body with hints of berry, plum and currant. Your event will be dressed even better than your guests in these fashion inspired hue and texture.
Select options