Bronze Edge Metal Placemat
$9.75
Trendy and appropriate for myriad event themes, the Bronze Edge Metal Placemat has a depth and appeal that allows it to move easily from one season to another. It is adaptable to earthy, rustic, minimalistic and even traditional settings. The round shape and linear pattern infuse it with an energy that is infectious!
Additional information
| | |
| --- | --- |
| Color(s) | Bronze |
| Rental options | placemat |
You may also like…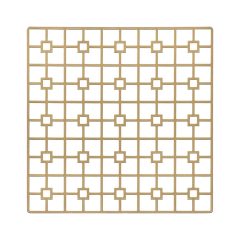 Gold Deco Metal Placemat
With its supremely simple shape and controlled, but edgy pattern, the Gold Deco Metal Placemat will highlight fine china, gold-rimmed crystal and simple flatware in classic Deco-era style. It supports and enhances an over-the-top theme of stylized patterns and brilliant colors. Just as the other options in metal placemats, Gold Deco exemplifies the choices available for stunning table settings.