Platinum Edge Metal Placemat
$9.75
Traditional, and still totally unique; it's graphic and lively, but it's also calm and refined. The combination of geometric shapes and linear patterns are soothing and edgy. The Platinum Edge Metal Placemat has its roots in ancient traditions, yet it feels modern in execution. As one of six choices in our line of metal placemats, this one is stunner.
Additional information
| | |
| --- | --- |
| Color(s) | Silver |
| Rental options | placemat |
You may also like…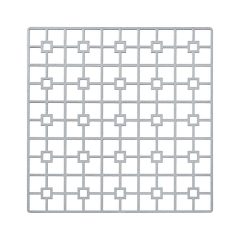 Platinum Deco Metal Placemat
The Platinum Deco Metal Placemat may seem simple in form, but it is distinctive and prompts a dramatic reaction. One of the two unique patterns of our metal placemat collection, it is destined to create lasting impressions on any table. Pair it with formal, rustic or casual — it will mix beautifully no matter what mood you seek to create!