Platinum Deco Metal Placemat
The Platinum Deco Metal Placemat may seem simple in form, but it is distinctive and prompts a dramatic reaction. One of the two unique patterns of our metal placemat collection, it is destined to create lasting impressions on any table. Pair it with formal, rustic or casual — it will mix beautifully no matter what mood you seek to create!
Additional information
| | |
| --- | --- |
| Color(s) | Silver |
| Rental options | placemat |
You may also like…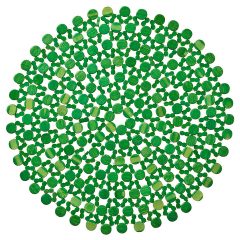 Green Beaded Placemat
The Green Beaded Placemat brings a natural serenity to your table. Elegantly simple, the familiar pattern and flat sided bamboo beads lend an authentic feel while the rich, vibrant color subtly accents any table design. It's the perfect placemat for tranquil themes from the minimalistic to the intricate.