Fabulous Events prides itself in customer service from beginning to end. Many times, our clients need some form of assistance the day of the event. Fabulous Events offers "Day Of" event management powered by Party Assurance. Our knowledgeable team of "Red Coat Ladies" are not party planners, but they are the day of party managers.
Every package offered by Party Assurance includes, but is certainly not limited to:
Facilitate the entire rehearsal
Meet all contractors and help them locate their proper work station.
Coordinate with all contractors to be sure timing of the party goes as planned.
Check all dining tables to ensure proper chair count and centerpieces.
Set up towels and basket of toiletries in bathroom; monitor cleanliness.
Ensure ceremonial items are in the appropriate place.
Check location & condition of all ceremonial microphones.
Display escort cards in alphabetical order on the escort card table.
Manage the ceremony entrance for the entire bridal party.
Ensure that all guests find their escort cards and/or tables.
Coordinate the grand entrance of the bride & groom with the band.
Collect all gifts and cards, and secure them until the end of the party.
Display and monitor any party favors as guests are leaving.
Every package includes almost anything else we can possibly assist you with during the party.
Are you looking for Event Management for another type of event? Whether it is a Wedding to a Bar/Bat Mitzvah or a huge corporate gala, we have you covered. Call us today at 248-853-6800.
Pricing starts at $1195 and goes up based on needs. Additional fees may be incurred for travel, lodging and meals if outside of the Southeast Michigan region.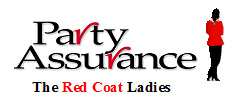 Save