Something as simple as a sash can make a huge impact on your event. Fabulous Events has hundreds of choices when it comes to renting chair sashes. Better yet, we include a standard satin or organza sash with our poly chair cover rentals at no additional charge. Want a different sash with your rental? All other sashes are 50% off when added to your chair cover rental. Some of our clients even rent our ultrawide sashes and use them as table runners.
We have the chair sashes you need for your next rental for your:
Wedding
Anniversary
Birthday Party
Bar/Bat Mitzvah
Bridal/Baby Shower
Communion
Any other special event
If you need help deciding, we can provide assistance in choosing which sash works the best for your event. With nationwide shipping and the best customer service around, why go anywhere else.
To see our available colors and styles, click HERE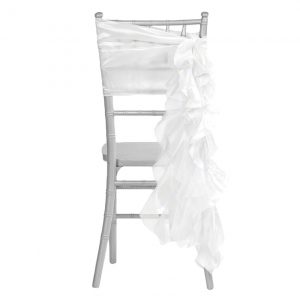 White Curly Willow Sash
Our Curly Willow sash is a 2 part system. The standard flat sash in combination with a curly willow attachment. Sash color can be changed to any color to enhance the look.
Chair not included
Looking for the perfect sash rental for your event, click HERE
Fabulous Events also provides the following rentals: